Pettis Adult Martial Arts Classes Offer World Class Black Belt Instruction For Men And Women Across SE Wisconsin
Are you looking for the highest quality adult Martial Arts training in SE Wisconsin? A school where you can learn from accomplished professionals and take your training to the next level? A diverse community of like minded, high achieving, goal oriented fellow students?

Well, look no further...
At Pettis Martial Arts, our Taekwondo based training program is setting adults and teens (ages 14+) up for success with hands-on coaching and a commitment to the highest quality in everything we do. This is the same program UFC and Bellator MMA stars and brothers Anthony "Showtime" Pettis and Sergio "SP" Pettis came up through on their way to the "big show."

Give us a call today at (414) 763-6562, email pettismartialarts@gmail.com or fill out our Request More Information form to get started.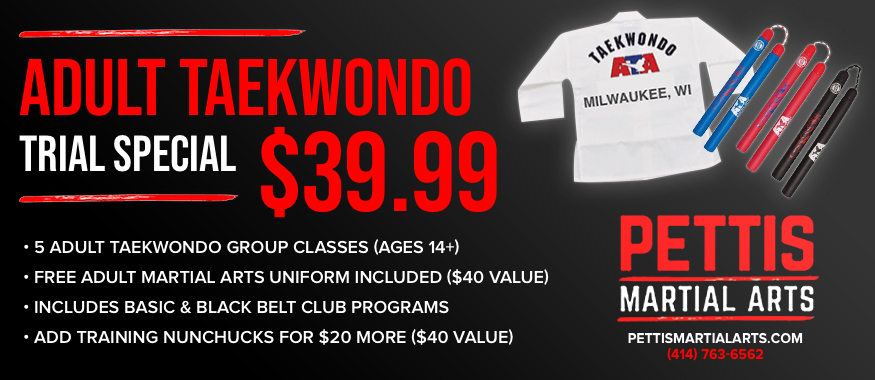 What can you expect from the Pettis Adult Martial Arts Program?
The Pettis Martial Arts system is designed to be the best blend of traditional Martial Arts training combined with real-world self-defense strategies. Whether you're a complete beginner, or have years of Martial Arts training experience, the instructors at Pettis Martial Arts are here to build you up with hands-on coaching to help you master the skills of effective striking, sparring and defensive maneuvers.
At Pettis Martial Arts, we're proud to offer a safe environment where you never have to worry about egos and intimidation. We're helping people all across the area learn:
Lightning-quick stand-up striking skills
Real-world situational sparring strategies
Offensive and defensive moves for any situation
Complete confidence in your ability to defend yourself
PLUS, You'll Quickly Take On Total-Body Success
The goal of the Pettis Martial Arts system is to help you master the ins and outs of effective Martial Arts strategies. However, from day one you'll also see we're pushing you to get the very most out of your body through our exhausting classes/workouts.
Our Adult Martial Arts classes help men and women just like you achieve physical and mental success through a dynamic workout routine where you focus on mastering the skills of sport-style self-defense without having to think about how hard you're working.
Come see us at Pettis Martial Arts for:
Total-body muscle toning
Improved speed, strength and athleticism
Fat burning workouts that keep you on your toes
More motivation to train than ever before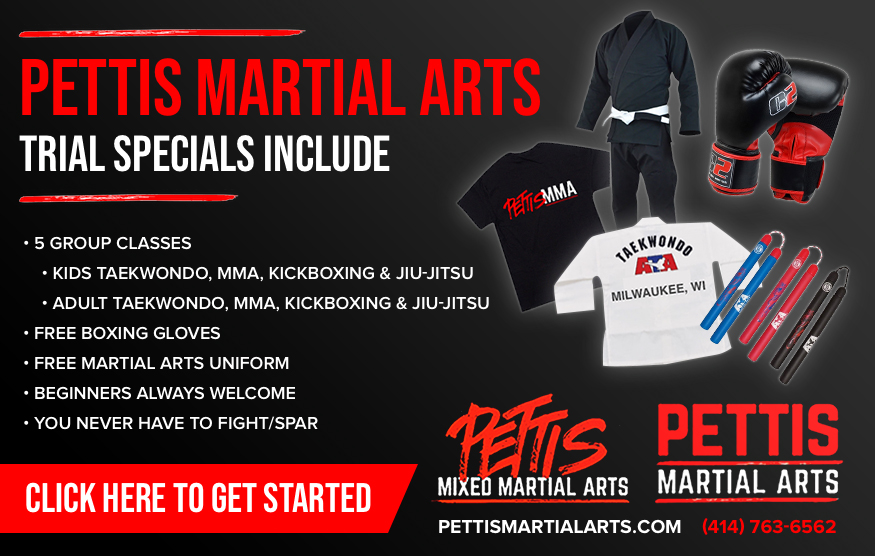 Don't Miss Out On Our Adult Martial Arts Classes. Get started today!

If you're hoping to challenge your body and learn from some of the best instructors in the area, we've got you covered. With your safety in mind, Pettis Martial Arts offers comprehensive, experienced coaching in the best blend of sport-style training and real-world self-defense.
Fill out the short form on your screen to learn more or come see us here in Franklin today.